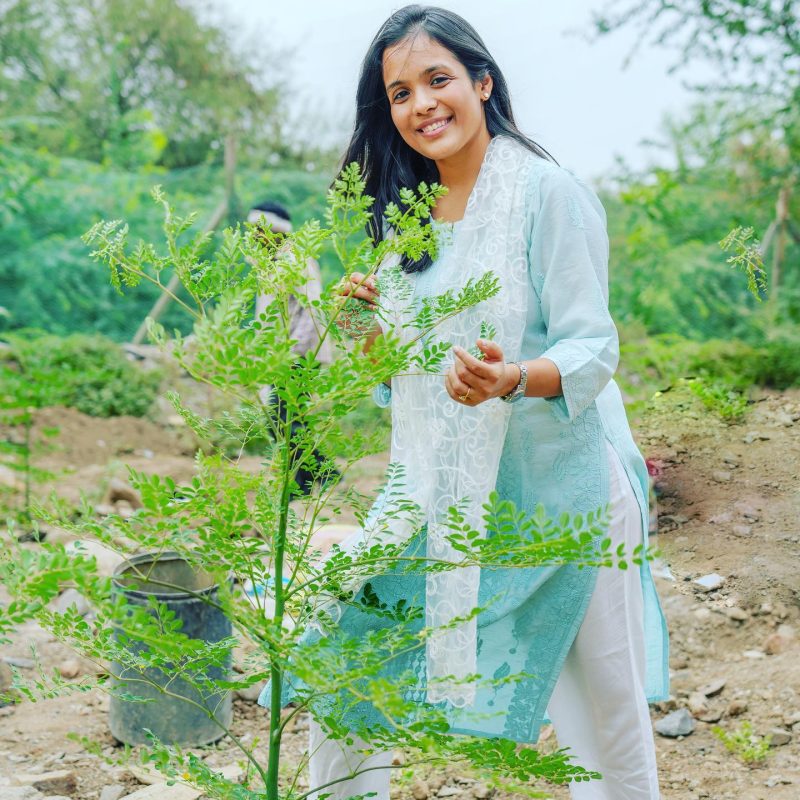 At Daivik Moringa, we believe in the healing power of nature. Our founder, Devika Bajaj, is a firm believer in the benefits of Moringa, also known as the "Miracle Tree," and has dedicated herself to sharing its incredible health benefits with others. After extensive research and collaboration with agriculturists, doctors, and nutritionists, we have created a line of over 30 products made from organically grown Moringa trees that promote clean living and overall balanced health.
Our product range includes edibles that act as nutritional supplements, skin care and hair care products, and artisan Moringa soaps. Each of our products is carefully crafted with Moringa, a powerhouse of essential vitamins, antioxidants, proteins, and anti-inflammatory agents. Our Moringa products have successfully helped in managing diabetes, blood pressure, arthritis, post-Covid fatigue, and hormonal imbalances, among other health concerns. We are proud to offer the first and only available organic Aloemoringa gel on the market, giving us a unique advantage.
As a company, we are committed to elevating the quality of life by fortifying the body naturally with Moringa. We believe that using chemical-free and non-synthetic processes in our day-to-day lives is the key to achieving optimal health and wellness. Our team is dedicated to making a positive impact on the world by sharing our love for Moringa and educating others about its benefits. Join us on our journey towards a healthier, happier, and more sustainable future.
Inspiring Healthy Living Inside Out
DEVIKA BAJAJ
Founder, Daivik Moringa
High Quality
Yield
At Daivik Moringa, our moringa trees are scientifically, sustainably farmed to ensure that high-quality 100% Moringa is harvested from our own farms, without any involvement of middlemen. Also, we believe in the long-proven heirloom of seeding new trees from saved seeds that thrive and mature in the local environment.
Controlled Environment
Our temperature-controlled polyhouse cultivation procedures are characterized by the controlled environment in which we grow our plants, taking into consideration the requirement of plants essential at the time of their growth in a natural habitat.
Drying
Process
We practice shade drying of moringa leaves so that there is no contamination from outside due to dust, or any other unpredictable weather changes. Our drying process of moringa takes place over a period of 3-4 days, which is an ideal time to ensure that the nutrients are preserved without compromising on the color.
Our product line encompasses moringa powder, capsules, infusions, energy bites, moringa seed oil, aloemoringa gel, face pack and a variety of artisan moringa soaps.
Apart from moringa, we also boast of sustainable turmeric, neem, giloy plantations that are grown and farmed with tender loving care.
Our moringa powder has 3 times more calcium and other vitamins as compared to other products in the market, as verified by the lab reports.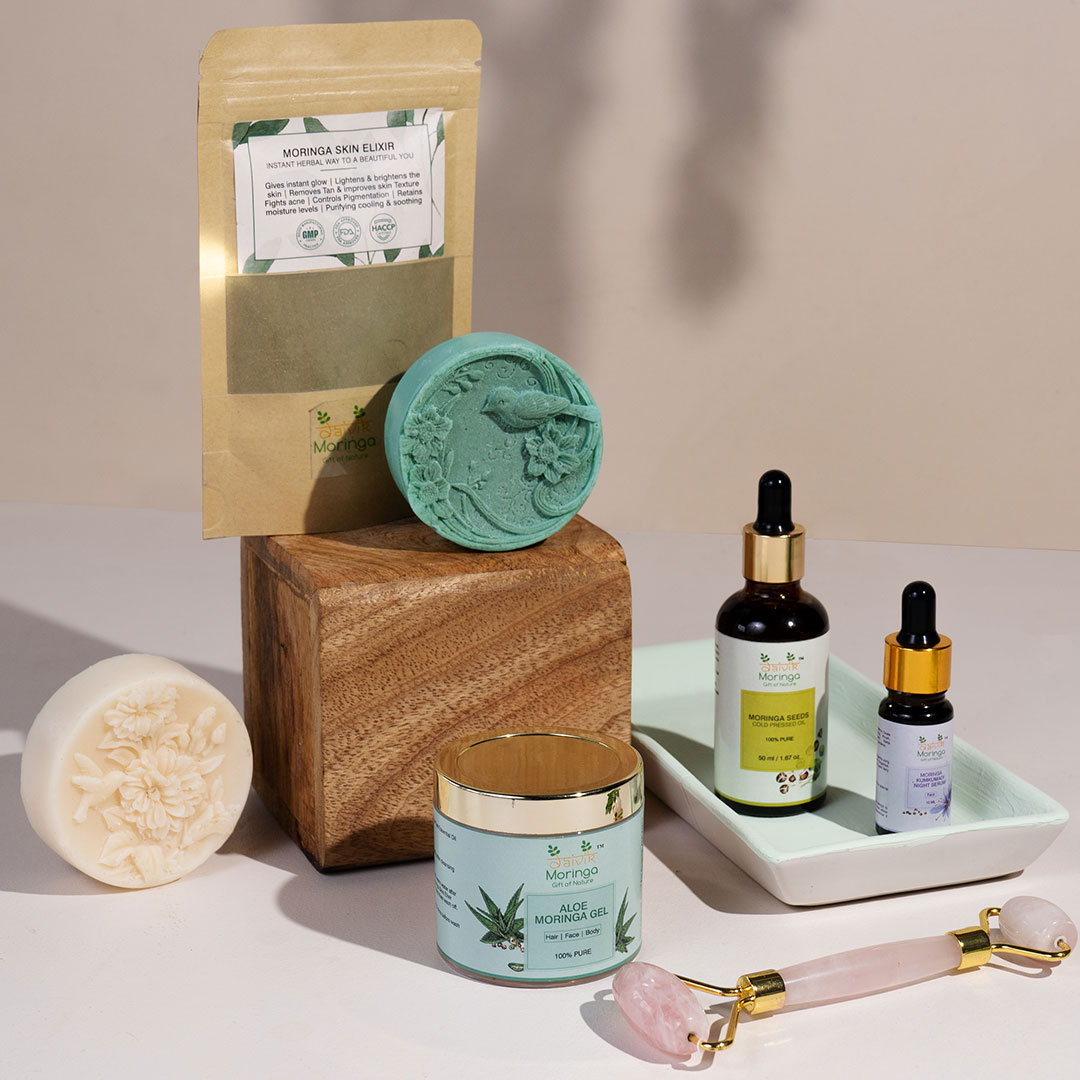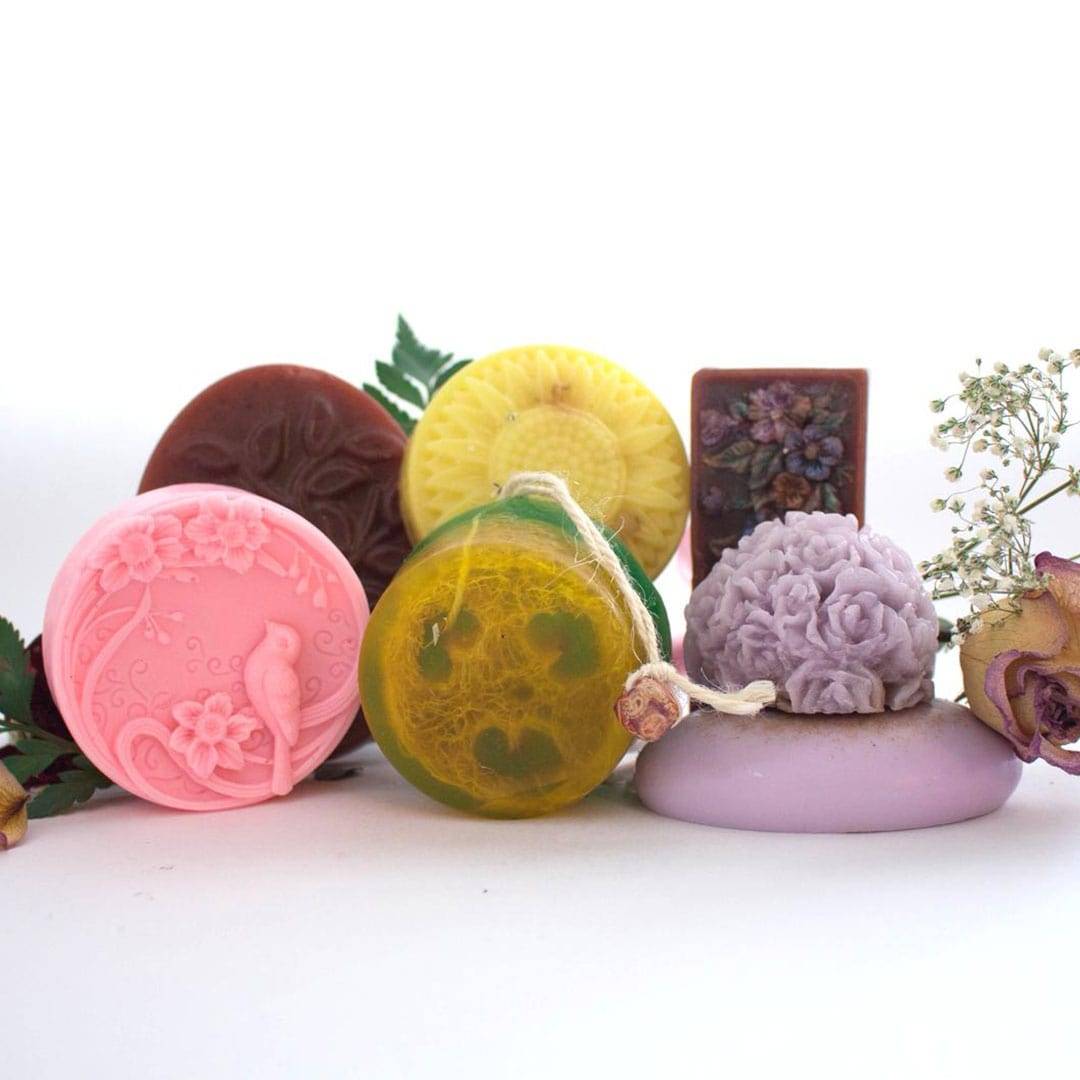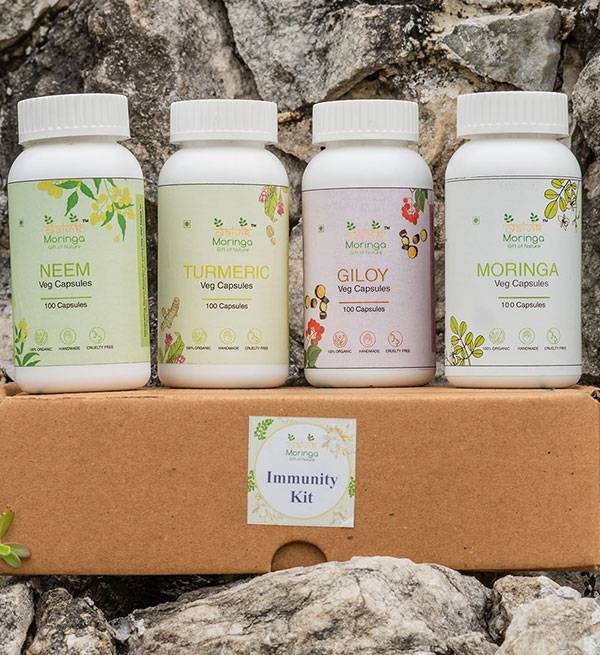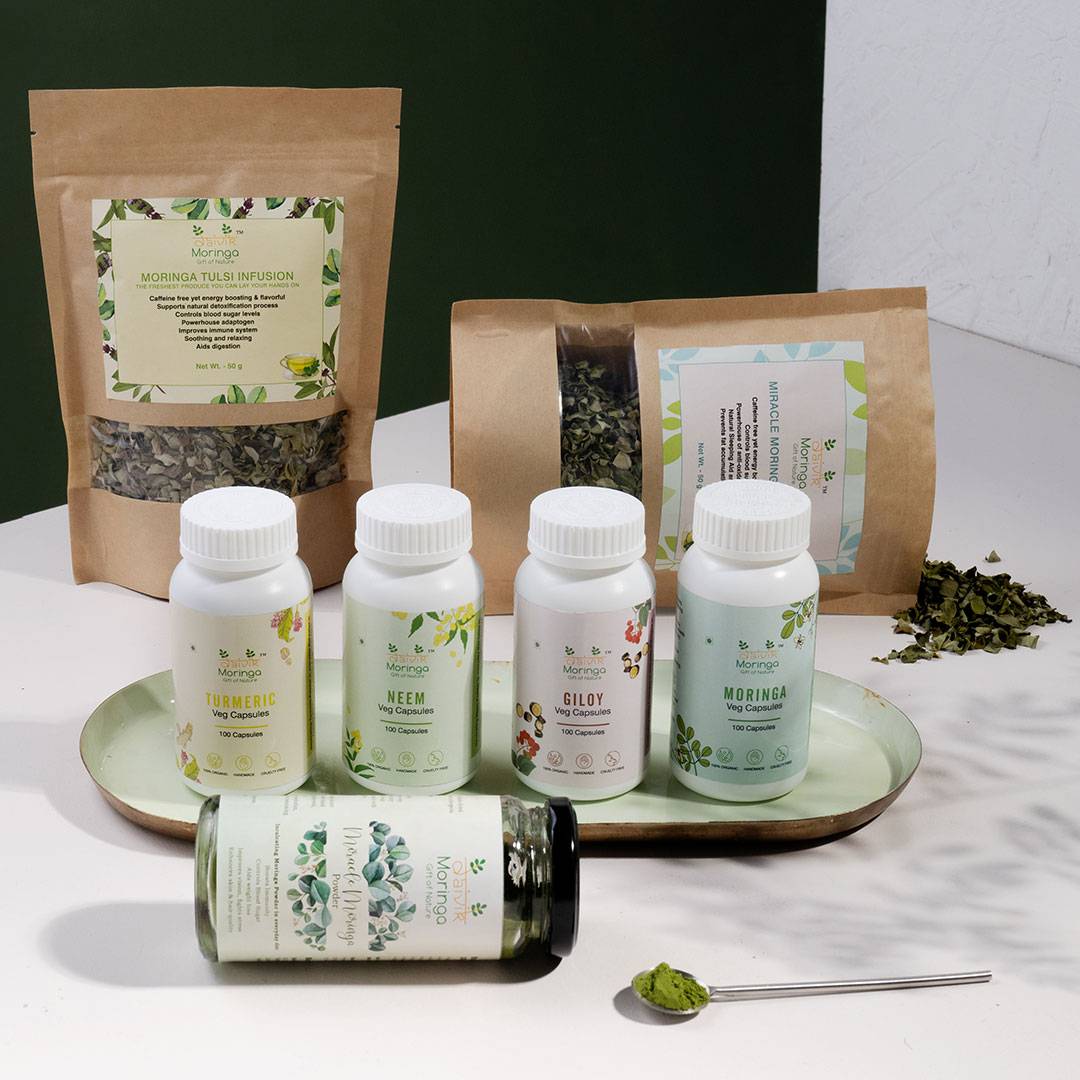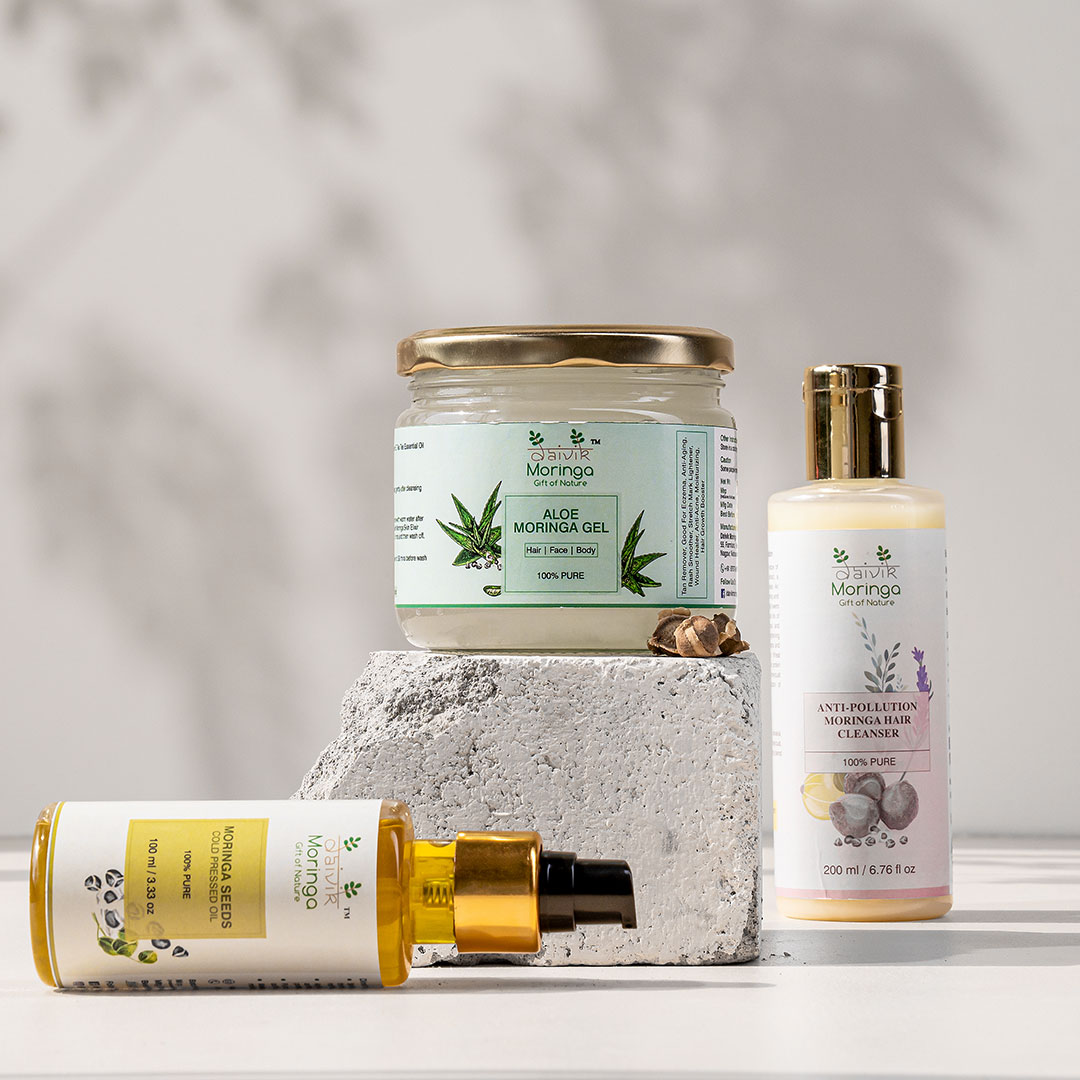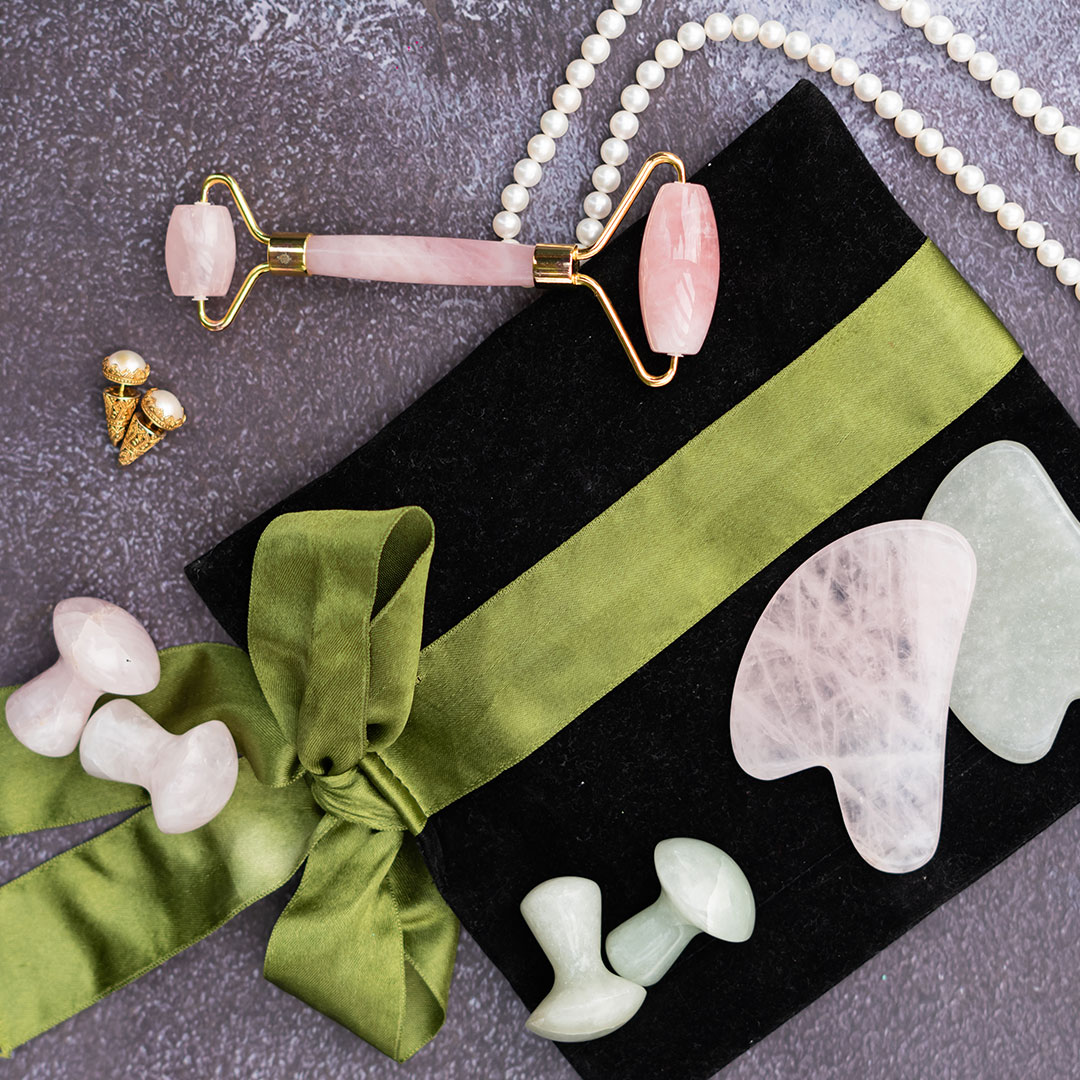 "The best part of the moringa oil is that it's free of harmful chemicals! It works very well on blackheads as well. For the first time ever, something has worked on my blackheads. Five stars to this oil."
"I had an itchy scalp for many days. I applied Aloe moringa gel with Moringa oil on my scalp and shampooed after 1 hr followed by a conditioner. I was amazed it gave such a cooling and calm effect on my hair. The itching also went away completely."
"I'm using the Aloe Vera gel daily, it's really good. I use it as a moisturizer and hair serum, both. Such a great multipurpose product! Even the moringa oil is nice. All the products are great actually. But I'm using Aloe Vera gel the most."
"I am actually in love with your products. Everyone asks me nowadays that your skin is glowing and my answer is the same. I use moringa. It is awesome. Even my mil loves the moringa oil. her dark circles are getting lesser day by day. Oil and gel both are working wonders on my skin."
"I'm going to need my next batch of moringa capsules and oil soon. The benefits are showing already!."
"Aloe moringa gel for Eczema. It's suiting my daughter's skin and helping her eczema."
"The aloe-moringa gel is amazing for the skin and specially for the hands also since we are washing them so many times. in humid weather this is the only gel we can use on the face. Hair also gets very well conditioned. Love it. Its really amazing."
"Moringa oil is amazing!! I just take a few drops and apply over my face. It has started diminishing my face marks and started making my skin look fresh and neat! it does not make my face look oily. That's the best part!."
"I use moringa aloe gel like serum on my face in the morning and evening, it makes my skin glow the whole day and it also closes all the open pores on face."
"Hey! Moringa has miraculous effect on my skin. I totally swear by the moringa powder and moringa oil, it helped me with the pigmented skin as well. Thanks Devika:)."
"Soap is amazing moringa bites are scrumptious, oil is lovely, applied it day and night & started seeing a glow on my skin."
"I have used many Moringa powders from different brands but this is definitely the best product absolutely fantastic product."
"I am very thankful to you for recommending moringa oil. I must say I am loving the way it's treating my skin gently giving it a smoother look. Thank you."
Manpreet Sabharwal, Bhopal
"Moringa oil is simply superb it made my face skin soft glossy cleared my scars reduced the fine lines."