Moringa
'The Miracle Tree'
Moringa tree is known as miracle tree and for all the right reasons. All parts of this tree are edible and jam-packed with nutrients. Let's take a closer look at each part of this highly-nutritious tree to welcome this superfood into our lives.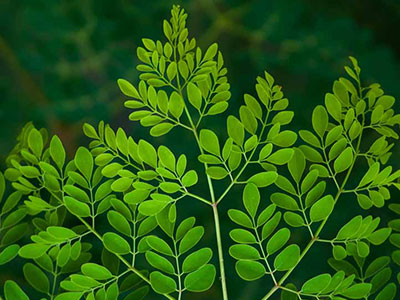 Moringa Leaves
Moringa leaves are the most versatile and nutritious part of the Moringa tree. Its powder has been a dietary staple in many South Indian households. Moringa leaves are sun-dried, crushed and grinded into a fine, green powder. This powder is easy to integrate into your usual diet to make it wholesome. From fighting common infections like cold, flu, controlling chronic diseases like diabetes, digestion disorders, to preventing conditions like Alzheimer's, cancer, etc., daily consumption of Moringa powder does it all.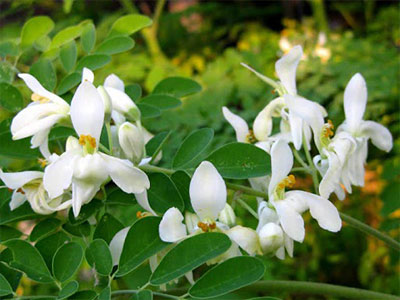 Moringa Flower
Moringa flowers are a great source of calcium and potassium and have been used as a natural supplement for nursing women in some parts of India from centuries. This plant is drought-resistant and all it needs is direct sunlight. Just like any other parts of Moringa, its flowers too are edible. These flowers are traditionally used in some parts of rural India for cooking, making tonic, as a fried snack, and now have become a part of the urban lifestyle as a tea flower.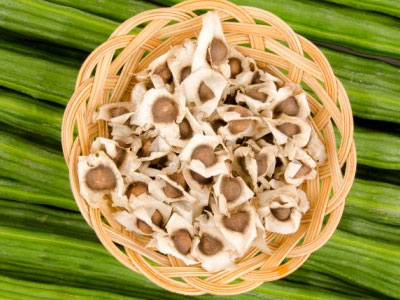 Moringa Seeds
Moringa seeds are rich in antioxidants, vitamins, calcium, iron and essential amino acids. They are obtained from Moringa pods, to be eaten fresh, dried, fried, or roasted for various purposes. They work as a natural cleanser for body and improve indigestion. The oil extracted oil from Moringa Seeds works as a nourisher for skin and hair. It also helps people with iron deficiencies, arthritis and diabetes.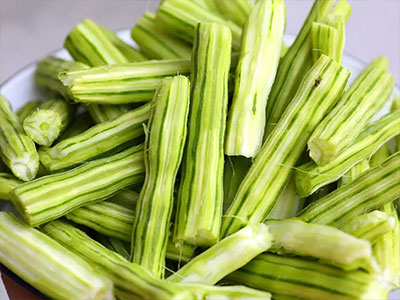 Moringa Pods (Drumsticks)
Drumsticks have been an integral part of Indian cuisine. This vegetable is an excellent source of oleic acid, a fatty acid, that promotes heart health. The anti-inflammatory, tissue-protective and antioxidant properties in this vegetable make it a natural immunity booster. Hence, including them in your diet once a week is a tradition worth following. Rich in calcium and iron, it is frequently included in diets of growing children and women.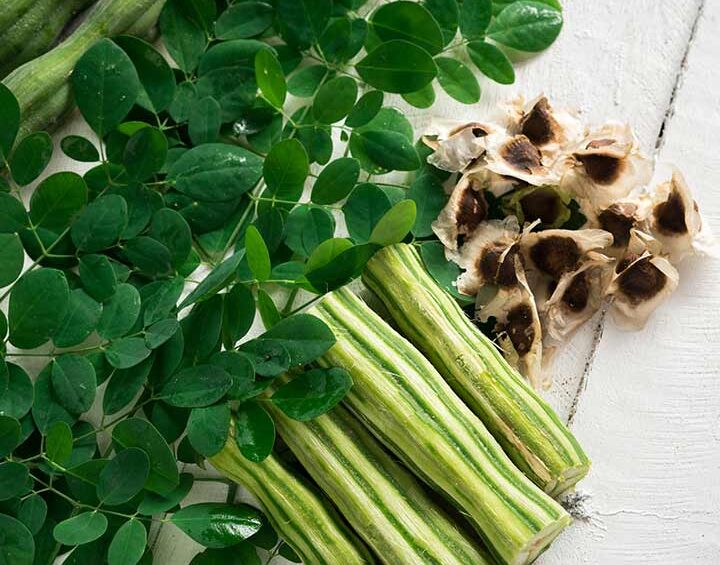 Moringa oleifera is a plant native to the sub-Himalayan regions of India, Pakistan, and Bangladesh, but also cultivated in other parts of Asia as well as South and Central America. The sturdy tree, also known as the "drumstick tree" or "horseradish tree," can be grown fast and in relatively harsh conditions, including sandy soil. The moringa leaves, seeds, seed pods, root, and even bark can be processed into powders and oils, all proven to provide a wealth of health benefits.
The majority of moringa's healthy properties are found within the leaves, which are the most widely used in medicinal applications and processed into easy-to-use powders. Moringa is said to be a rich source of minerals and vitamins, like vitamin C, iron, calcium, magnesium, and folate. Moringa, like any superfood worth its weight, is also said to contain all the essential amino acids and free radical-fighting antioxidants, and contains more protein than kale (about 2 grams per cup), along with significant anti-inflammatory properties.
Recipes with moringa leaves powder:
1. 1 tsp of moringa leaves powder in a glass of water
2. 1 tsp of moringa leaves powder in your buttermilk or any vegetable juice
3. Add moringa leaves powder to khichdi and it will be most wholesome and lipsmacking dish you ever had
4. Add it to overnight oats, top it with some seeds and nuts. Can add honey/dates/figs to it. Have it in your breakfast or as a mid evening snack! Can be added to any pudding/porridge as well.
5. 1 tsp moringa powder can be added to dals, roti(masala roti), gravies, soups, rasam, poriyal, Avial, stew, rice, thepla, pulav. Can also be added in dosa/appam/omelette/chilla batter.
6. Add moringa powder to any egg preparation and enhance its nutritional quality.
7. Add it in vegetable cutlet/Pattice and relish it
8. Add it in guacamole or any smoothie
9. Can be added in laddoos, desserts, energy bars.
10. Can be added in the dough of fresh breads/focaccia/rotis etc.
Enjoy the daily food with added nutrition from moringa powder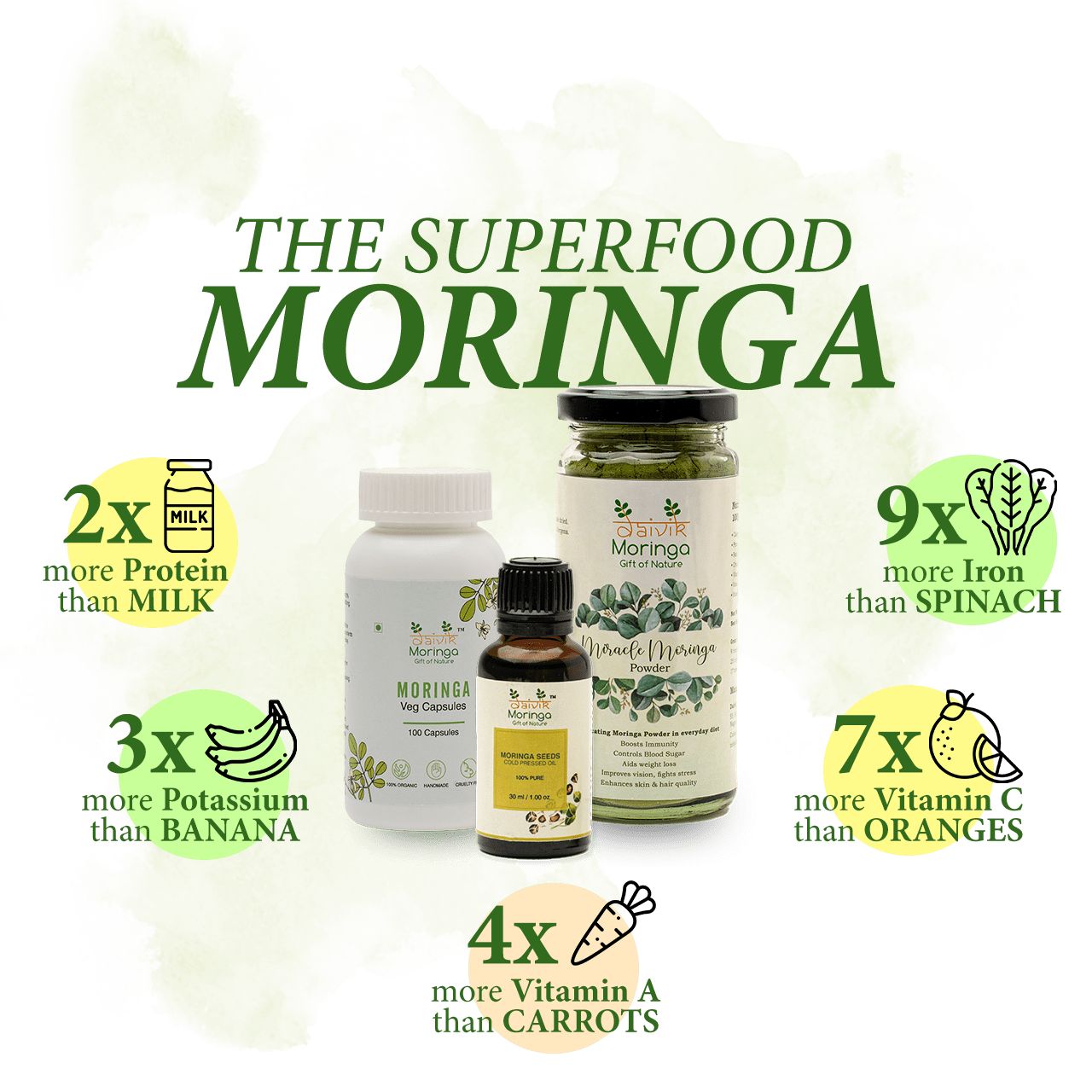 How Moringa has transformed lives
"The best part of the moringa oil is that it's free of harmful chemicals! It works very well on blackheads as well. For the first time ever, something has worked on my blackheads. Five stars to this oil."
"I had an itchy scalp for many days. I applied Aloe moringa gel with Moringa oil on my scalp and shampooed after 1 hr followed by a conditioner. I was amazed it gave such a cooling and calm effect on my hair. The itching also went away completely."
"I'm using the Aloe Vera gel daily, it's really good. I use it as a moisturizer and hair serum, both. Such a great multipurpose product! Even the moringa oil is nice. All the products are great actually. But I'm using Aloe Vera gel the most."
"I am actually in love with your products. Everyone asks me nowadays that your skin is glowing and my answer is the same. I use moringa. It is awesome. Even my mil loves the moringa oil. her dark circles are getting lesser day by day. Oil and gel both are working wonders on my skin."
"I'm going to need my next batch of moringa capsules and oil soon. The benefits are showing already!."
"Aloe moringa gel for Eczema. It's suiting my daughter's skin and helping her eczema."
"The aloe-moringa gel is amazing for the skin and specially for the hands also since we are washing them so many times. in humid weather this is the only gel we can use on the face. Hair also gets very well conditioned. Love it. Its really amazing."
"Moringa oil is amazing!! I just take a few drops and apply over my face. It has started diminishing my face marks and started making my skin look fresh and neat! it does not make my face look oily. That's the best part!."
"I use moringa aloe gel like serum on my face in the morning and evening, it makes my skin glow the whole day and it also closes all the open pores on face."
"Hey! Moringa has miraculous effect on my skin. I totally swear by the moringa powder and moringa oil, it helped me with the pigmented skin as well. Thanks Devika:)."
"Soap is amazing moringa bites are scrumptious, oil is lovely, applied it day and night & started seeing a glow on my skin."
"I have used many Moringa powders from different brands but this is definitely the best product absolutely fantastic product."
"I am very thankful to you for recommending moringa oil. I must say I am loving the way it's treating my skin gently giving it a smoother look. Thank you."
Manpreet Sabharwal, Bhopal
"Moringa oil is simply superb it made my face skin soft glossy cleared my scars reduced the fine lines."